***Please Note that we

CAN NOT

use outside caterers at West Mid Showground***
***CASUAL TRADERS ARE VERY WELCOME***

Visitor Information
Trade ONLY - 7:30- 8:30 (Saturday ONLY)
TRADE FREE WITH CARD ALL WEEKEND

!
Public Opening times:
Saturday - 8:30 - 3:30
Sunday - 9:00 - 3:30
(you are advised to get there before 2pm on the Sunday due to traders beginning to pack away)
Admission Fee:
£2.50 per person
£1.50 Over 60's
Under 16's FREE
FREE parking all weekend
Refreshments available
***Please note that there is NO cashpoint on site, the nearest is Shrewsbury Town centre***



Exhibitor information.
***CASUAL TRADERS ARE VERY WELCOME***
All Exhibitors to be at the showground no later than 8:15am. Exhibitors are advised to be at the showground on the Saturday by 7:15am as trade buyers are let in at 7:30am.

Gates open for exhibitors at 6am (Saturday) and 7am (Sunday)

All exhibitors to use gate two

Maps and directions available on request

Well behaved dogs are welcome

We will NOT tolerate exhibitors packing up before 2pm - this affects every single person exhibiting that day and is unfair to the paying public.

We do not police outside pitch size, 10m / 10m is a rough guide. We feel every exhibitor should set up as they feel is best for them to encourage sales. We would however kindly request that you respect the exhibitor next to you and follow a back to back line with the next row. However, anyone with a trailer or two large vehicles will be charged for two pitches (excluding caravans)

Casual traders are more than welcome

Indoor pitches are strictly pre-book / pay ONLY

Please read terms (link at bottom of page)
Pitch Price
Indoor pitch - 2.5m/2.5m - £35 per day including table or a discounted price for the two days of £60


Outdoor pitch - 10m / 10m- £35 per day or a discounted price for two days of £60


Extra tables available on the day for a fee of £3 per table


Traders wishing to camp overnight at the showground can do so for free, there are three female and three male showering facilities available to use onsite. We also have catering available to traders on the evenings between 5:30pm -7:00pm.


Those camping and who wish to hook up to an electricity point can do so for a minimal charge of £8 payable to the showground. There are 24 available to use to aid camping. These points may not be usable during the day given that there location may not be near pitches.

Pre paid traders are welcome to camp on the Friday night free of charge. You can access the showground from 2pm on Friday afternoon. NO EARLIER.

Payment / Booking Information
Booking in advance is advised, simply add the fair you require to the cart and pay and you are booked.

Pitch payment on the door is also an option but is strictly cash only

Paper booking forms are available if required


Cheque's need to be cleared by the Monday before the flea.


Card Payments can be processed via our online booking system. Please be advised that this is a secure payment method

Please contact us if you prefer to pay via a PayPal invoice and this can be arranged no problem.
​

Questions or Queries
Please do not contact the showground

Please contact Emma Jones on 07584 357 808 or use contact us
​

​Marketing and Promotion

We will market the event in every way possible however, we strongly recommend that you share our event's on social media as this will only benefit your sales.

We use both Traditional forms of marketing and modern marketing to attract a diverse crowd to our events

We also own an Antiques centre which recently featured on Salvage Hunters and our events are constantly promoted via this business

Please ensure you as exhibitors help increase footfall and your potential sales by sharing and promoting the event too.


We have a number of adverts and editorials running via local media leading up to all of our events.

We advertise in a number of trade magazines which include Home & Antiques magazine, The Antique trade calendar (the black & white), Antique & collectors trader & The Antique traders gazette
***Please Note that we
CAN NOT
use outside caterers at West Mid Showground***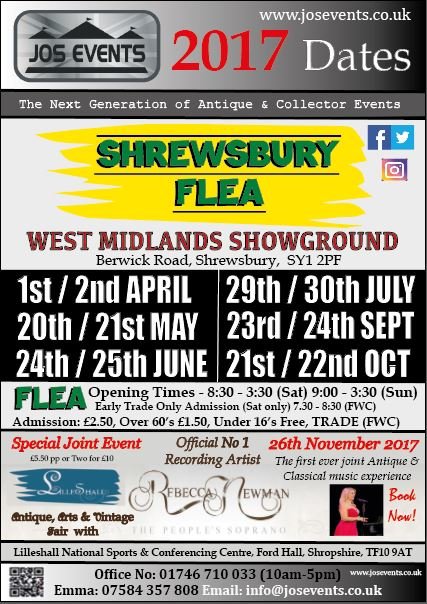 Lilleshall Antique, Arts and Vintage Fair with Rebecca Newman
Lilleshall National Sports & Conferencing centre,
Near Newport, Shropshire, TF10 -9AT
Visitors Information
Up to 70 dealers selling jewellery, ceramics, glassware, art,
pictures, books, vintage clothing, mid century and much more.
VISITORS OPENING TIMES
---
Exhibitors Information
Tables / chairs & Electrical supply provided.
Please bring an extension lead and table cover.
Cost
Double stand (12ft) - £50
Setting Up Time
Unloading from 7:00 a.m.: Easy parking / Level access to hall
New Exhibitors welcome at all our fairs!
Simply, click, book and pay!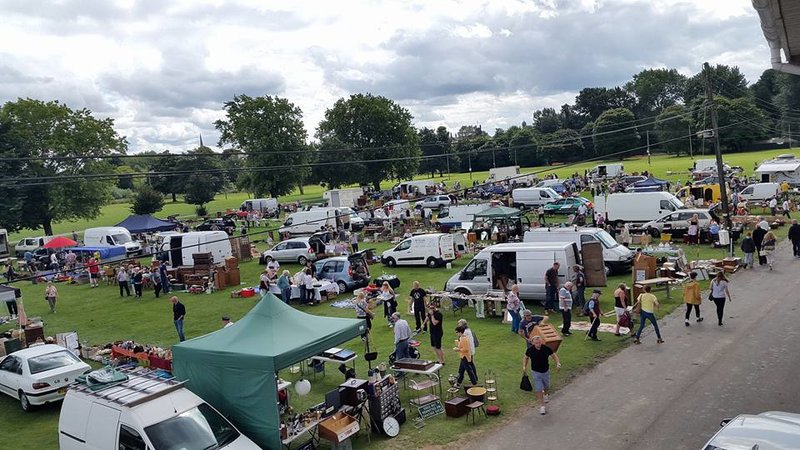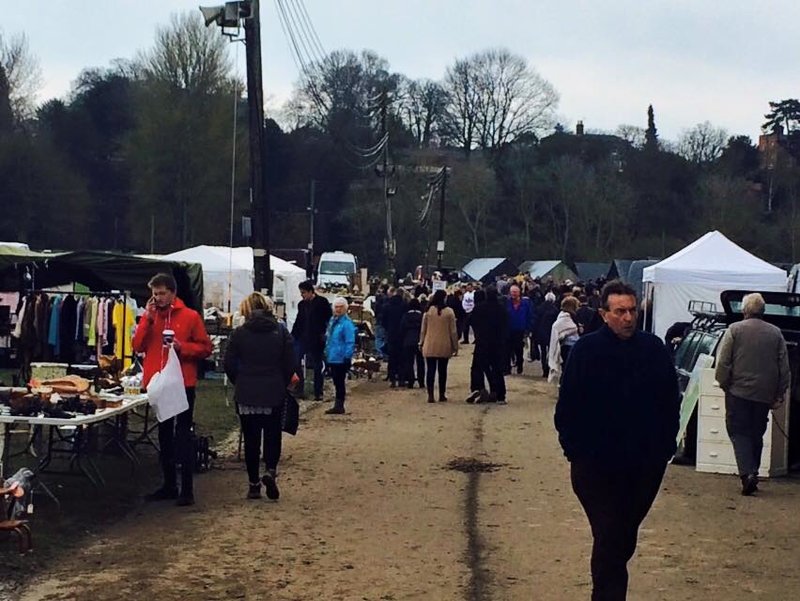 ​