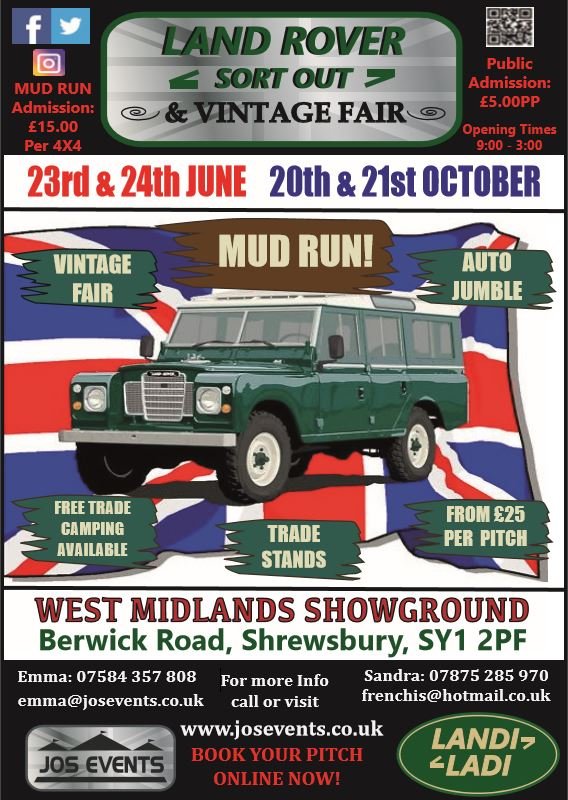 Trade Information
Booking a Pitch
Saturday & Sunday are equally busy days
To make a booking please go to the fair you wish to book and add the option to the basket. Outdoor traders will save £10 by pre-booking and will be given a priority outdoor pitch. Indoor traders are pre-paid only and will be allocated a table. Once booked, you will then receive an email with a unique booking reference attached example #R212345678. This reference number is unique to you and dates you've booked.
Please following the booking instructions listed under the fair's information.
The booking system is 24 hours and any pitches which have sold out will be removed from the website. Once booked and paid simply follow the instructions below.
Casual traders are welcome to pay cash for an outside casual pitch on the day - subject to availability. Please be aware that on the Saturday, one-day casual traders will be asked to wait until all two day and pre-booked traders are in situ.
Arrival Information
· Exhibitors to arrive at gate two
· Mud run to arrive at gate one (11am-2pm) (trade only 4pm – 6:30pm)
Pre-booked Traders
· Please have your reference number saved to your smart phone or printed out ready to show to the marshal
· The marshal will also ask you your name and email address for security, please have this information ready
Any outstanding pitch rent must be paid for in cash at the gate before being admitted
Friday
· 4pm – 8pm - Two Day traders and exhibitors admitted for set up, including public campers.
· 8pm – Building & Showground secured
· 8pm-6pm – Security and guard dogs patrolling
Saturday
· 7.00am - Outdoor traders & exhibitors ONLY admitted.
· 8.45am – Exhibitor gate locked
· 9:00am - Public Buyers admitted
· 11:00 – 2:00pm – Mud Run opens (Public)
· 3.00pm - Event closes
· 4:00 – 6:30 – Mud Run opens (Trade)
· 8.00pm – Building / showground secured
· 8pm-6pm – Security and guard dogs patrolling
Sunday
· 7am - Building opened, traders admitted
· 8.45am – Exhibitor gates locked
· 9am - Public Buyers admitted
· 11:00 – 2:00pm – Mud Run opens (Public)
· 3:00pm - Event closes
· 6:30pm – Showground closed and secured
Pitch size
Outdoor Pitch – Approx. 32ft / 32ft
Single Indoor Pitch – 8ft / 8ft including one 5.5ft table
Double Indoor Pitch – 16ft / 8ft including two 5.5ft tables
Triple Indoor Pitch – 24ft / 8ft including three 5.5ft tables
Electrical and Display Equipment
Electricity is limited within the building. Extension leads are not provided by the organiser. Exhibitors are only permitted to use lights requiring no more than 300 watts per stand.
There are facilities for electric hook-up on site for caravans. The majority of these hook-ups are located on the opposite side of the showground, however, there are four electric hook ups available within the fair area. To reserve one of these four hook ups you will be required to Prepay for two days. Priority will be given to those requiring hook ups for medical reasons. The electric hook ups are £8 per night. This will need paid via cash direct to the showground.
Extra Tables
A limited number of 5.5ft tables are available to hire to indoor traders at a cost of £3 each. They must be pre-booked (see extras). We also have a limited number of wooden trestle tables available to hire on the day, these are priced at £5 each and you will be required to fetch and carry these tables to your own stand.
General Information
Please help us to ensure easy unloading for you all by parking sensibly around the buildings. Staff may ask you to move your vehicle if it is causing an obstruction.
All Indoor traders must move their vehicle and park in the allocated parking area by 8:30am.
Please do not place nails or screws in any walls or partitions belonging to the venue.
Well behaved dogs on leads are welcome.
You are required to do your own risk assessment when setting up and all items left overnight are left at your own risk. We strongly advise market trader insurance.
All stands must remain fully stocked until close of event.
Outdoor pitch size is approx. 10m / 10m, this is a guide. We feel every exhibitor should set up as they feel is best for them to encourage sales. We would however kindly request that you respect the exhibitor next to you and follow a back to back line with the next row. Anyone with two large vehicles will be charged for two pitches (excluding caravans & trailers)
Catering and toilets are available on site. The nearest cash machine is in Shrewsbury Town centre.
Bins are provided but please respect the showground and dispose of any rubbish prior to vacating your pitch.
We are extremely fortunate to be able to do a mud run at West Mids Showground so for this reason we would kindly request that it is used with respect and sensibly so can continue in the future. You will be asked to sign a disclaimer before use for both your benefit and ours.
Traders can use this facility FREE OF CHARGE (Saturday evening only) as this is included in your pitch price. Please note, this facility will not be available on Sunday.
Social Media
Please make sure you share our event pages on Facebook, instagram and Twitter so we can get as many customers as possible and make it a great event! Our marketing surveys have proved that 90% of our customers have heard about our Fleas via social media so it's in everyone's interest to share it long and wide.
You can invite your friends on Facebook by clicking on the event you are attending on our page under events. Then click share at the top of that page and invite friends. Our social media pages are as follows:
Facebook.com/landroversortout
twitter.com/landroversortout
Instagram/landroversortout
Address
The address of West Mid Showground is as follows:
·
The Agricultural Showground
Berwick Road / Gravel Hill Lane
Shrewsbury
SY1 2PF
· For Sat Navs our postcode is: SY1 2PF
Directions avoiding town centre
· Exit M54/ A5 and take second exit onto the A49.
· Next roundabout take second exit and continue on A49
· Next Roundabout take second exit onto Battlefield Link road (A5124)
· Continue straight on over the next round about
· Take the second exit at next round about onto Ellesmere road (towards town centre)
· Continue along road for 2.2 miles
· Turn right at traffic lights onto Berwick Road the left where the road forks onto Gravel Hill Lane.
· You will arrive at the showground on your left
Contact Information
Emma: 07584 357 808 or Sandra 07875 285 970
We hope you have a successful and enjoyable event.