SHREWSBURY FLEA - All 6 WEEKENDS 2019
Booking a Pitch
YOU ARE BOOKING TO ATTEND ALL SIX WEEKENDS 2019
SAVE 10% & SECURE YOUR PITCH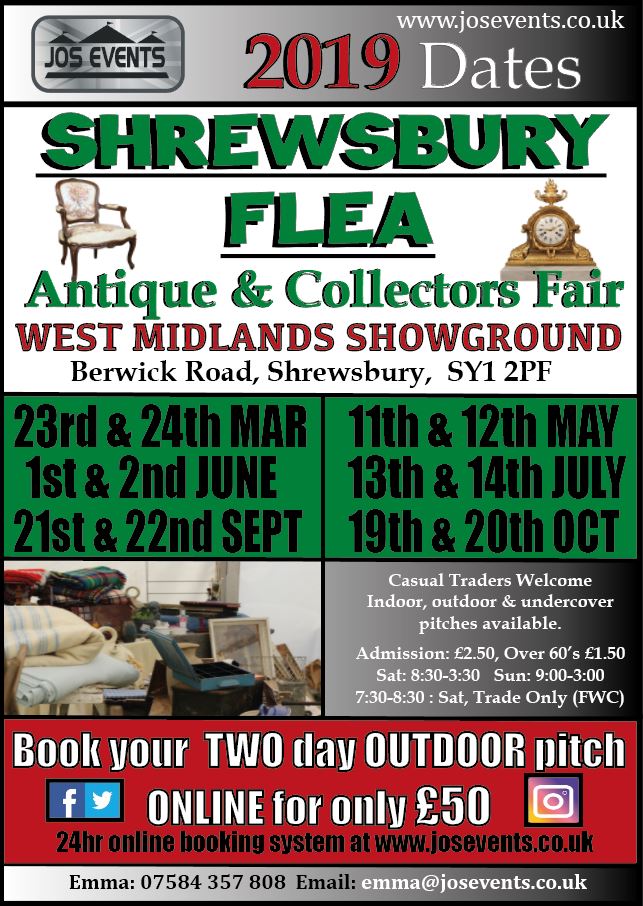 Add only one item at a time to the basket to get the correct calculation. Outdoor traders will save 10% on the online booking discount by pre-booking for the year, this works out at only £22.50 a day. Pre-booked Outdoor traders will be given a priority outdoor pitch. Indoor traders are pre-paid only and will save an additional 10% when booking for the year.
E

xtra wooden trestle tables are available for £5 on the day. The trader will be expected to collect and carry these tables to their own stands. Traders are welcome to bring extra tables of their own.

Once booked, you will then receive an email with a unique booking reference attached example
#R212345678
. This reference number is unique to you for the year. This email will act as your yearly pass. Please print or save to your smart phone and present it to the marshal when prompted.
 All exhibitor information can be found in the main menu.